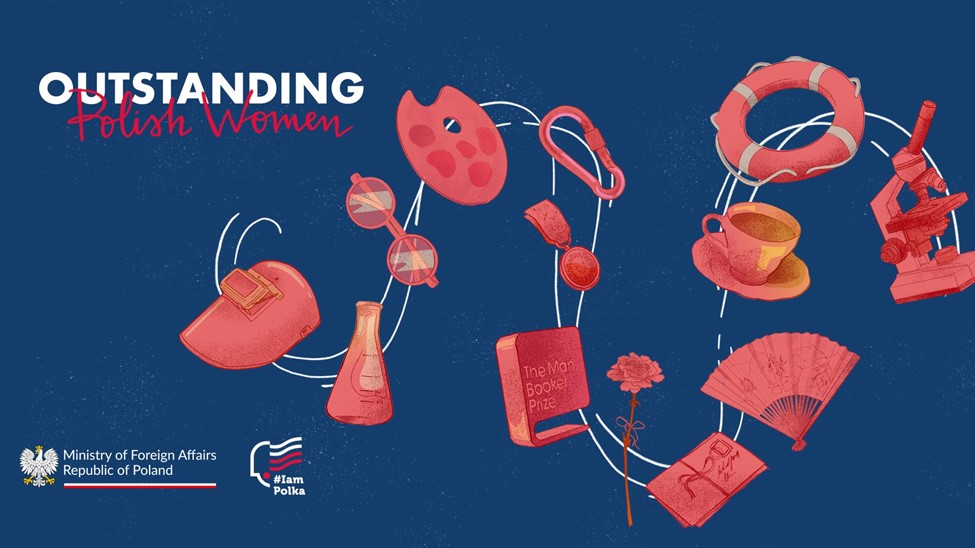 DECEMBER 7, 2023
PLACE: Frostburg State University
ADDRESS:Lane University Center Rm 113
TIME:12:30 PM to 1:30 PM
CONTACT: Kara Rogers-Thomas
PHONE: 240 522 7635
EMAIL:This email address is being protected from spambots. You need JavaScript enabled to view it.
PLACE: Mountain City Traditional Arts
ADDRESS: 25 E. Main St, Frostburg, MD
TIME: 7 PM
CONTACT: Kara RogersThomas
PHONE: 301 687 8040
"From Maria Skłodowska-Curie, the greatest female scientist in history, to Wanda Rutkiewicz, the fearless Himalayan climber. From Maria Siemionow, the author of the world's first nearly total face transplant, to the first Polish female parliamentarians. From Irena Sendler, the Polish nurse who saved hundreds of children from the Warsaw Ghetto, to Wisława Szymborska, the Polish poet beloved worldwide. Poland, its history, and its present can be portrayed in various ways. Personally, Katerzyna Rybka-Iwaska finds the most captivating approach is to narrate the story of my country through the remarkable women who have shaped it. Often, and significantly so, these are tales that remain undiscovered, at best residing in a niche. It's time to change that and complete the "missing half of history."
Katarzyna Rybka-Iwańska is a career diplomat and the head of public and cultural diplomacy at the Embassy of the Republic of Poland in Washington, D.C. In her previous posting at the Embassy of the Republic of Poland in Tel Aviv (2018-2022), she headed public diplomacy and communications. Between September,2021 and January, 2022, she was the chargéd'affaires a.i. of the Republic of Poland in the State of Israel.
Prior to being posted overseas, Katarzyna assisted the Board of Strategic Advisors to the Prime Minister in Poland's Prime Minister's Office (2008-2010) and spent eight years at the Foreign Policy Planning Unit at the Ministry of Foreign Affairs (2010-2018). She is an expert in strategic planning, especially in public and cultural diplomacy, as well as in educational, digital projects, and in promoting women's stories. Regarding the last topic, Katarzyna has repeatedly conducted workshops for educators, as well as delivered guest lectures and lessons on the subject of women's contributions to the history of Poland.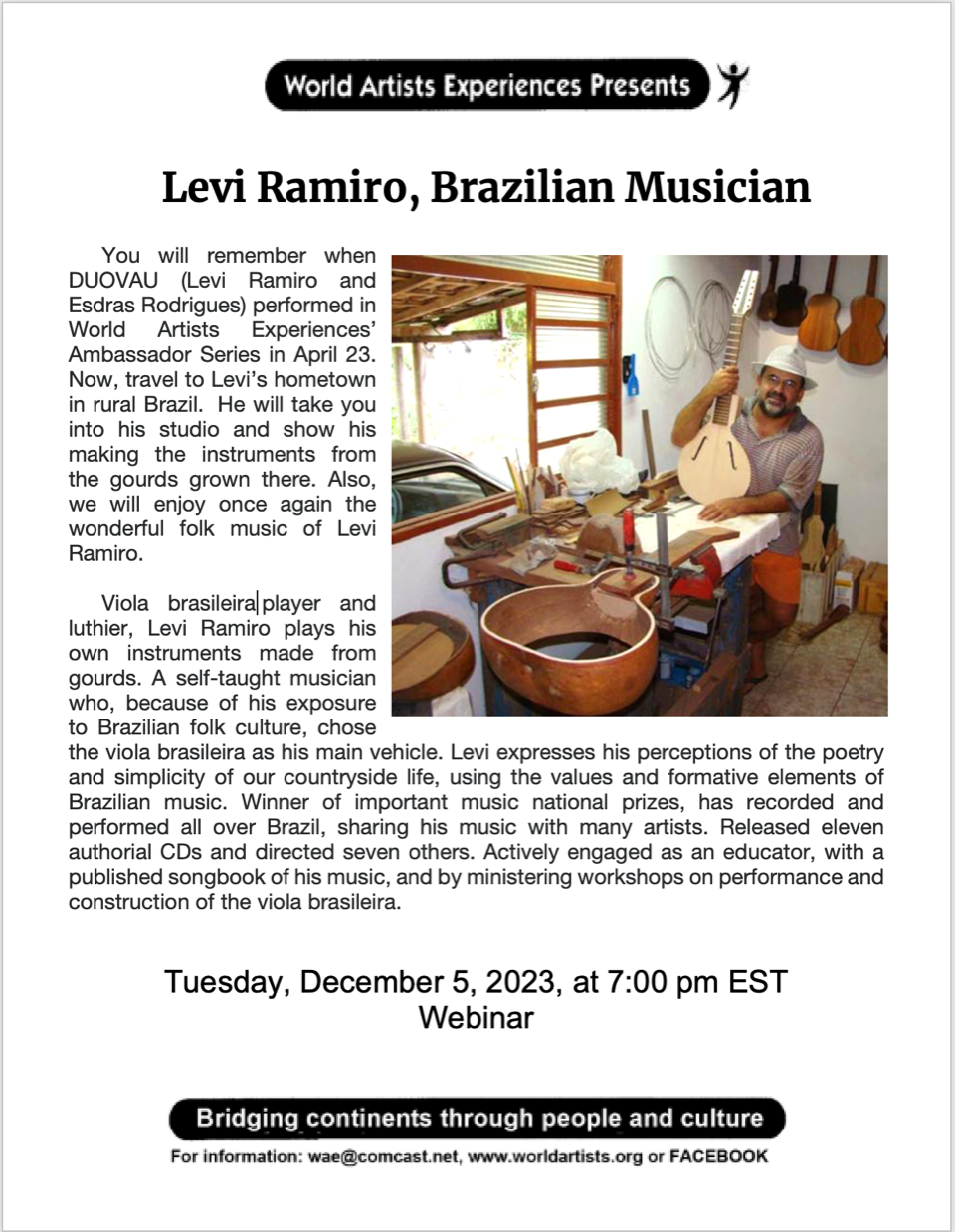 https://us02web.zoom.us/webinar/register/WN_nRqc_CADQQinAeJ4C31mpA
WAE YouTubechannel:https://www.youtube.com/channel/UCuNk5SRPIcpB1BdViPIeOaA
FRIENDS,
YOU are the heart and soul of World Artists Experiences!!!
YOU are…
fantastic audiences, young and old;
volunteers sharing your time, talent, and hearts;
supporters giving donations generously.
Together bringing experiences of welcoming, dialoguing, learning, presenting, caring for friends who come from all over the world…both live and virtually.
THANK YOU for giving of yourselves so thoughtfully and generously.
Our Friends from around the world wrote to YOU:
"WAE welcomed us from beginning to end. Our experience with WAE was the most wonderful we ever had in the US. We got to know the real people."
"Our experience with you was so unique and allowed us to dialogue freely. May we return in the future?"
"Hosting our group gave us recognition and experiences which we will always be grateful."
"Sharing my culture provides an opportunity to work together toward understanding and peace. You make a difference."
"WAE is great organization which does wonderful work connecting our people and culture. I learned so much that I never knew while with you in the United States."
TOGETHER…We can make a difference in our tumultuous world.
We Hope you will consider:
continue to give us ideas for meeting the challenges using the arts as our international language;
exploring new and better avenues to build mutual understanding, respect, trust, and peace;
finding new caregivers to bridge the people and cultures of our world.
World Artists Experiences needs YOU!
On behalf of all of us, may you have a beautiful and joyous holiday season, and your New Year be filled with joy, peace, and love,
Betty McGinnis, President
& the Board of Directors ,World Artists Experiences
World Artists Experiences bridges people and cultures across the continents.
HOPEFULNESS….. Virtual platforms kept WAE alive AND opened new avenues. Artists offered fresh ideas and gratitude for WAE. Audiences anticipate the human touch. We are reminded by people everywhere of the great need to bridge our world. We hope that you will continue to support WAE with your time, talents and resources.
GRATEFULNESS….. We express heartfelt gratitude to faithful, caring and committed volunteers, friends around the world for their encouragement, and to our generous donors for their financial and other support.
THOUGHTFULNESS…..With your inspiration, ideas, kindness, and talents, the important work of bringing people and cultures closer by dialoguing, forming friends around the world, and dialoguing to build trust, respect and peace using the art as our bridge will continue.
Thank you for your creativity, kindness, support and embracing World Artists Experiences. We, together, will continue to bridge our fragile world for mutual cultural understanding. On behalf of all of us, may your holidays be filled with joy and beauty and your New Year with good health and peace.
Betty McGinnis and
The Board of Directors
World Artists Experiences
World Artists Experiences (WAE) is a non-profit organization that builds bridges for international understanding through cultural and citizen diplomacy in communities, colleges, and schools in Maryland, Pennsylvania, and nearby states. Since 2003 WAE has partnered with over 125 countries to present diverse and rich cultures through a variety of experiences.
M
A
J
O
R
P
R
O
G
R
A
M
S
A
N
D
A
C
T
I
V
I
T
I
E
S
:
Ambassador Series
: The Ambassador Series sponsors performances by renowned artists that represent their
country and culture.
Experiences include music, dance, poetry, visual arts, and other art forms. They are
held in numerous communities.
Each Community has a WAE Ambassador Team to organize the experience
in a giving and receiving relationship in their communities, including welcoming, hosting, and presenting the artists.
Ambassador Series events are free to the public.
Cultural Immersion Experiences
:
Cultural Immersions are day-long experiences designed to give an in-
depth understanding of the people and cultures of a country or region of the world. Each day is filled with embassy visits, exhibitions, museum visits, concerts, and food from the country
or region

.

The experiences
are educational and are designed for schools, colleges
,
and organization
s.
International Education
:
WAE coordinates with schools and colleges to provide professional development
for educators to help them inspire their students to learn about the world, its cultures and its people.
•
C

u

l

t

u

r

a

l

A

m

b

a

s

s

a

d

o

r

s

i

n

S

c

h

o

o

l

s

.

WAE provides opportunities and resources to educators for them
to
promote international understanding and global citizenship among their students.
•
Wo

r

k

s

h

o

p

s

.

Workshops are conducted for educators and students to encourage creative writing on
international and inter-cultural themes. Professional credits are often awarded.
•
V

i

s

u

a

l

D

i

a

l

o

g

u

e

a

n

d

C

u

l

t

u

r

a

l

E

x

c

h

a

n

g

e

s

.

Students in the United States and other countries are
encouraged to exchange artwork and open dialogues.
•
I

n

t

e

r

n

a

t

i

o

n

a

l

E

d

u

c

a

t

i

o

n

Mo

n

t

h

.

WAE promotes November as International Education Month with
ideas and activities for communities, schools, and colleges.
WAE works with Maryland's Secretary
of State to issue the Governor
's
proclamation of International Education Month.
Bridges to the World Film Festival
:
Each February and March WAE screens films from five countries in
communities throughout Maryland.
The films are provided by the embassies. They are free to the public.
Advising and Consulting
:
Upon request, WAE advises and consults with organizations, schools, colleges,
and others on cultural and citizen diplomacy.
G
L
O
B
A
L
P
A
R
T
N
E
R
S
H
I
P
S
:
WAE works with embassies in the United States.

The embassies arrange for
their
country's
artists to perform in the United States through their cultural exchange programs. WAE may work directly with Ministries of Culture and Education and with International Organizations.
D
A
T
E
F
O
U
N
D
E
D
:
WAE was incorporated in the State of Maryland October 1, 2002.

The first season was
2003-2004. Seasons run from July 1 to June 30 of the following year.
O
R
G
A
N
I
Z
A
T
I
O
N
: WAE is an all-volunteer organization. There is no paid staff. The number of
volunteers in a year varies from 500 to 3,000 depending on the needed activities. WAE has a core group of ov
er 350 volunteers

.

WAE is governed by a Board of Directors.
F
U
N
D
I
N
G
A
N
D
T
A
X
S
T
A
T
U
S
:
WAE receives donations from individuals, foundations, corporations, and
businesses. WAE is an IRS Section 501(c)(3) Public Charity
C
O
N
T
A
C
T
:

World Artists Experiences, PO Box 9753, Arnold, MD 21012

;

phone: 410-6

47

-4481; email:
w
a
e
@
c
o
m
c
a
s
t
.
n
e
t
;
Webpage:
w
w
w
.
W
o
r
l
d
A
r
t
i
s
t
s
.
o
r
g
.
06/2020
World Artists Experiences (WAE) is a non-profit organization that builds bridges for international understanding through cultural and citizen diplomacy in communities, colleges, and schools. In its 12-year history, WAE has partnered with over one hundred fifteen countries around the world to present their diverse and rich culture through numerous experiences.