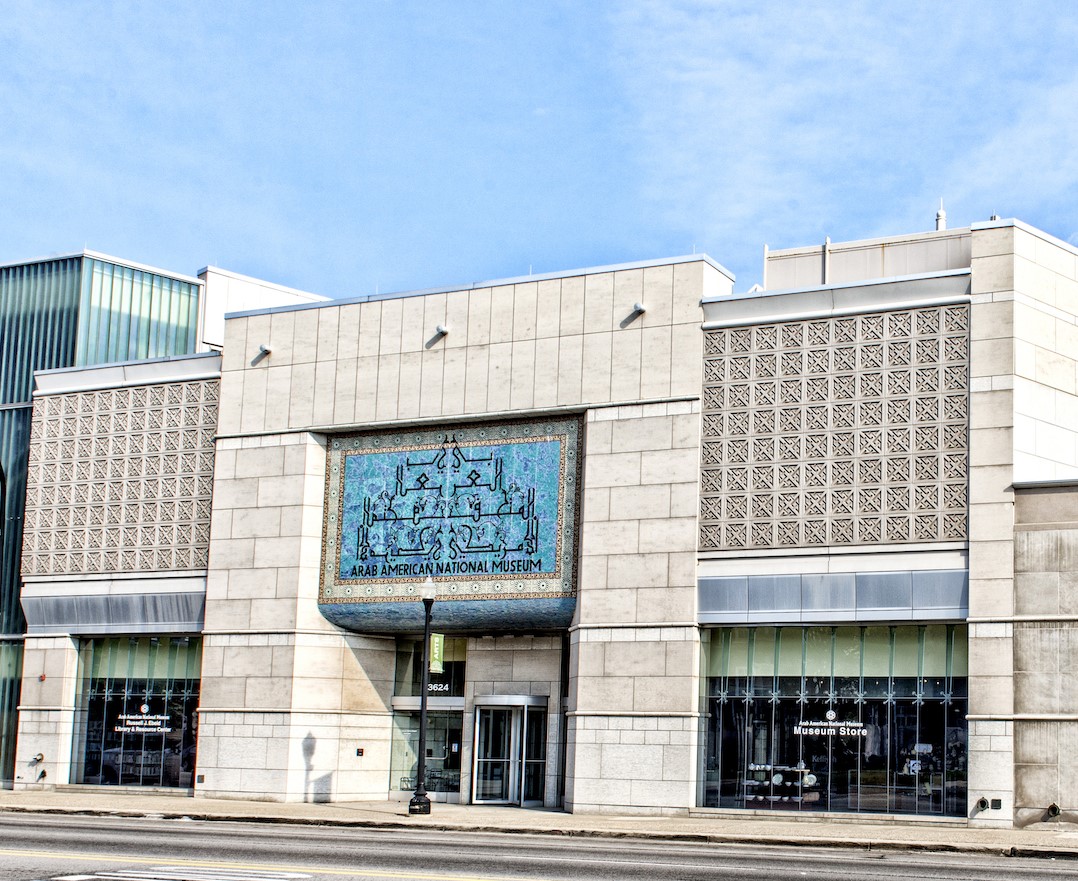 TOUR OF THE ARAB AMERICAN MUSEUM
August 9, 2022; 7:30 PM Eastern Daylight Time (EDT)
A live, virtual tour of the Arab American National Museum (AANM) will be held on August 9, 2022 at 7:30 pm EDT. This free event is sponsored by World Artists Experiences (WAE).
David Serio, Curator of Education, will facilitate a tour of the museum's Coming To America, Living In America, and Making An Impact galleries and other key exhibits. Along the way, participants will explore elements of arts and culture as influenced by language, history, cuisine, and immigration. Mr. Serio will define the Arab World, highlight ethnic and religious diversity within the Arab World and Arab American community, and discuss layers of identity. Virtual visitors will experience mosaic tiles in the courtyard, a dome with Arabic writing, traditional music, geometric shapes, hospitality, food, and common items found in an Arab American household.
No registration is required. Participants may join the virtual tour via Zoom through the following link: https://us02web.zoom.us/j/85006934194?pwd=d0FVNWZubTBpc25oaVBDSzBucEVYZz09
Meeting ID: 850 0693 4194; Passcode: 322955.
Guests are encouraged to ask any questions and interact with the museum's education.
Additional information about the Arab American national Museum is available at https://arabamericanmuseum.org/about/. World Artists Experiences is a non-profit organization that fosters transnational and cross-cultural understanding by bridging people and cultures across continents and through shared artistic experiences.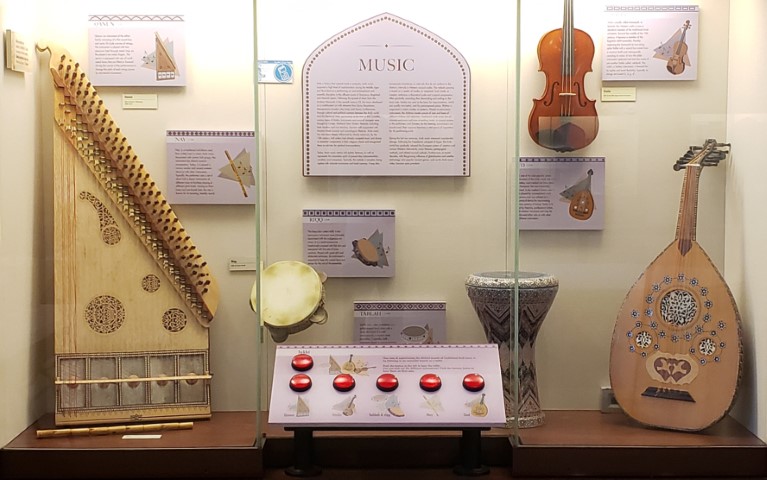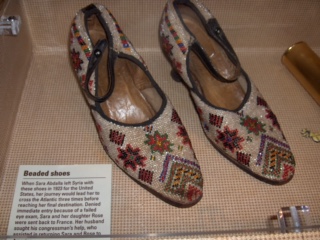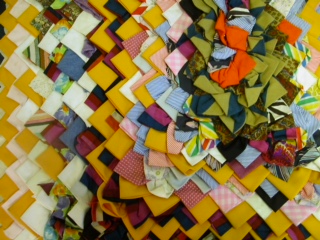 The Albino Mbie Trio
Live performances September 6, 7, and 8, 2022
World Artists Experiences (WAE), in partnership with the Embassy of Mozambique, presents three live performances of The Albino Mbie Trio at the following locations:
September 6, 2022, 6:30 pm: Salisbury University, on the lawn; 101 Camden St, Salisbury, MD
September 7, 2022, 7:00 pm: Gloria Dei Lutheran Church; 461 College Parkway, Arnold, MD
September 8, 2022, 7:00 pm: Loft 129; 129 Cumberland Street Cumberland, MD
Albino Mbie is a multi-award-winning musician, guitarist, singer, composer, and producer from Maputo, Mozambique, currently based in Boston, Massachusetts. Mozambique is a southern African country known for its rich musical and cultural heritage. Mbie built his first guitar from a 5 liter can of oil, scrap wood, and electric cords at the tender age of 14. Drawn to the street music of his native Maputo, Mbie soon started playing with bands in the local scene.
Mbie's music succeeds in combining many disparate parts into an organic whole. It incorporates his musical experiences from Mozambique, the U.S., and many other places around the world, combining rhythmic patterns and musical concepts to create a unique Marrabenta, Nikatche, Afro-Pop and Moz-Jazz sound.
Mr. Mbie studied music at the Universidade Eduardo Mondlane in Mozambique and the Berklee College of Music in Boston, Massachusetts. He is an active touring musician who has shared the stage with Godfathers of American jazz such as Wayne Shorter, Joe Lovano, John Patitucci and others as well as African giants such as Richard Bona, Jimmy Dludlu, Mulato Astatke and others.
Additional information about Albino Mbie is available at http://albinombie.com. World Artists Experiences is a non-profit organization that fosters transnational and cross-cultural understanding by bridging people and cultures across continents and through shared artistic experiences. More information is available on the WAE website, www.worldartists.org or by email at This email address is being protected from spambots. You need JavaScript enabled to view it..
Donations are appreciated.
WAE recommends wearing a mask and social distancing, regardless of vaccination status.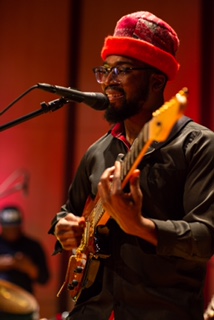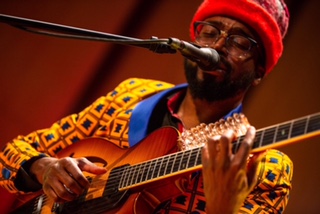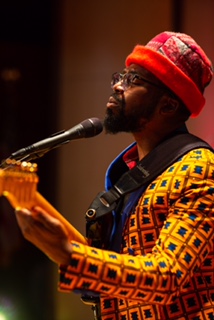 World Artists Experiences bridges people and cultures across the continents.
HOPEFULNESS….. Virtual platforms kept WAE alive AND opened new avenues. Artists offered fresh ideas and gratitude for WAE. Audiences anticipate the human touch. We are reminded by people everywhere of the great need to bridge our world. We hope that you will continue to support WAE with your time, talents and resources.
GRATEFULNESS….. We express heartfelt gratitude to faithful, caring and committed volunteers, friends around the world for their encouragement, and to our generous donors for their financial and other support.
THOUGHTFULNESS…..With your inspiration, ideas, kindness, and talents, the important work of bringing people and cultures closer by dialoguing, forming friends around the world, and dialoguing to build trust, respect and peace using the art as our bridge will continue.
Thank you for your creativity, kindness, support and embracing World Artists Experiences. We, together, will continue to bridge our fragile world for mutual cultural understanding. On behalf of all of us, may your holidays be filled with joy and beauty and your New Year with good health and peace.
Betty McGinnis and
The Board of Directors
World Artists Experiences
World Artists Experiences (WAE) is a non-profit organization that builds bridges for international understanding through cultural and citizen diplomacy in communities, colleges, and schools in Maryland, Pennsylvania, and nearby states. Since 2003 WAE has partnered with over 125 countries to present diverse and rich cultures through a variety of experiences.
M
A
J
O
R
P
R
O
G
R
A
M
S
A
N
D
A
C
T
I
V
I
T
I
E
S
:
Ambassador Series
: The Ambassador Series sponsors performances by renowned artists that represent their
country and culture.
Experiences include music, dance, poetry, visual arts, and other art forms. They are
held in numerous communities.
Each Community has a WAE Ambassador Team to organize the experience
in a giving and receiving relationship in their communities, including welcoming, hosting, and presenting the artists.
Ambassador Series events are free to the public.
Cultural Immersion Experiences
:
Cultural Immersions are day-long experiences designed to give an in-
depth understanding of the people and cultures of a country or region of the world. Each day is filled with embassy visits, exhibitions, museum visits, concerts, and food from the country
or region

.

The experiences
are educational and are designed for schools, colleges
,
and organization
s.
International Education
:
WAE coordinates with schools and colleges to provide professional development
for educators to help them inspire their students to learn about the world, its cultures and its people.
•
C

u

l

t

u

r

a

l

A

m

b

a

s

s

a

d

o

r

s

i

n

S

c

h

o

o

l

s

.

WAE provides opportunities and resources to educators for them
to
promote international understanding and global citizenship among their students.
•
Wo

r

k

s

h

o

p

s

.

Workshops are conducted for educators and students to encourage creative writing on
international and inter-cultural themes. Professional credits are often awarded.
•
V

i

s

u

a

l

D

i

a

l

o

g

u

e

a

n

d

C

u

l

t

u

r

a

l

E

x

c

h

a

n

g

e

s

.

Students in the United States and other countries are
encouraged to exchange artwork and open dialogues.
•
I

n

t

e

r

n

a

t

i

o

n

a

l

E

d

u

c

a

t

i

o

n

Mo

n

t

h

.

WAE promotes November as International Education Month with
ideas and activities for communities, schools, and colleges.
WAE works with Maryland's Secretary
of State to issue the Governor
's
proclamation of International Education Month.
Bridges to the World Film Festival
:
Each February and March WAE screens films from five countries in
communities throughout Maryland.
The films are provided by the embassies. They are free to the public.
Advising and Consulting
:
Upon request, WAE advises and consults with organizations, schools, colleges,
and others on cultural and citizen diplomacy.
G
L
O
B
A
L
P
A
R
T
N
E
R
S
H
I
P
S
:
WAE works with embassies in the United States.

The embassies arrange for
their
country's
artists to perform in the United States through their cultural exchange programs. WAE may work directly with Ministries of Culture and Education and with International Organizations.
D
A
T
E
F
O
U
N
D
E
D
:
WAE was incorporated in the State of Maryland October 1, 2002.

The first season was
2003-2004. Seasons run from July 1 to June 30 of the following year.
O
R
G
A
N
I
Z
A
T
I
O
N
: WAE is an all-volunteer organization. There is no paid staff. The number of
volunteers in a year varies from 500 to 3,000 depending on the needed activities. WAE has a core group of ov
er 350 volunteers

.

WAE is governed by a Board of Directors.
F
U
N
D
I
N
G
A
N
D
T
A
X
S
T
A
T
U
S
:
WAE receives donations from individuals, foundations, corporations, and
businesses. WAE is an IRS Section 501(c)(3) Public Charity
C
O
N
T
A
C
T
:

World Artists Experiences, PO Box 9753, Arnold, MD 21012

;

phone: 410-6

47

-4481; email:
w
a
e
@
c
o
m
c
a
s
t
.
n
e
t
;
Webpage:
w
w
w
.
W
o
r
l
d
A
r
t
i
s
t
s
.
o
r
g
.
06/2020
World Artists Experiences (WAE) is a non-profit organization that builds bridges for international understanding through cultural and citizen diplomacy in communities, colleges, and schools. In its 12-year history, WAE has partnered with over one hundred fifteen countries around the world to present their diverse and rich culture through numerous experiences.