Due to unexpected circumstances, WAE must postpone the September 21st lecture and tour.
We are in the process of rescheduling. Stay tuned for an update.
Sept. 21 : CULTURAL ART TOUR - NO OCEAN BETWEEN US: ASIAN DIASPORA in ART of the AMERICAS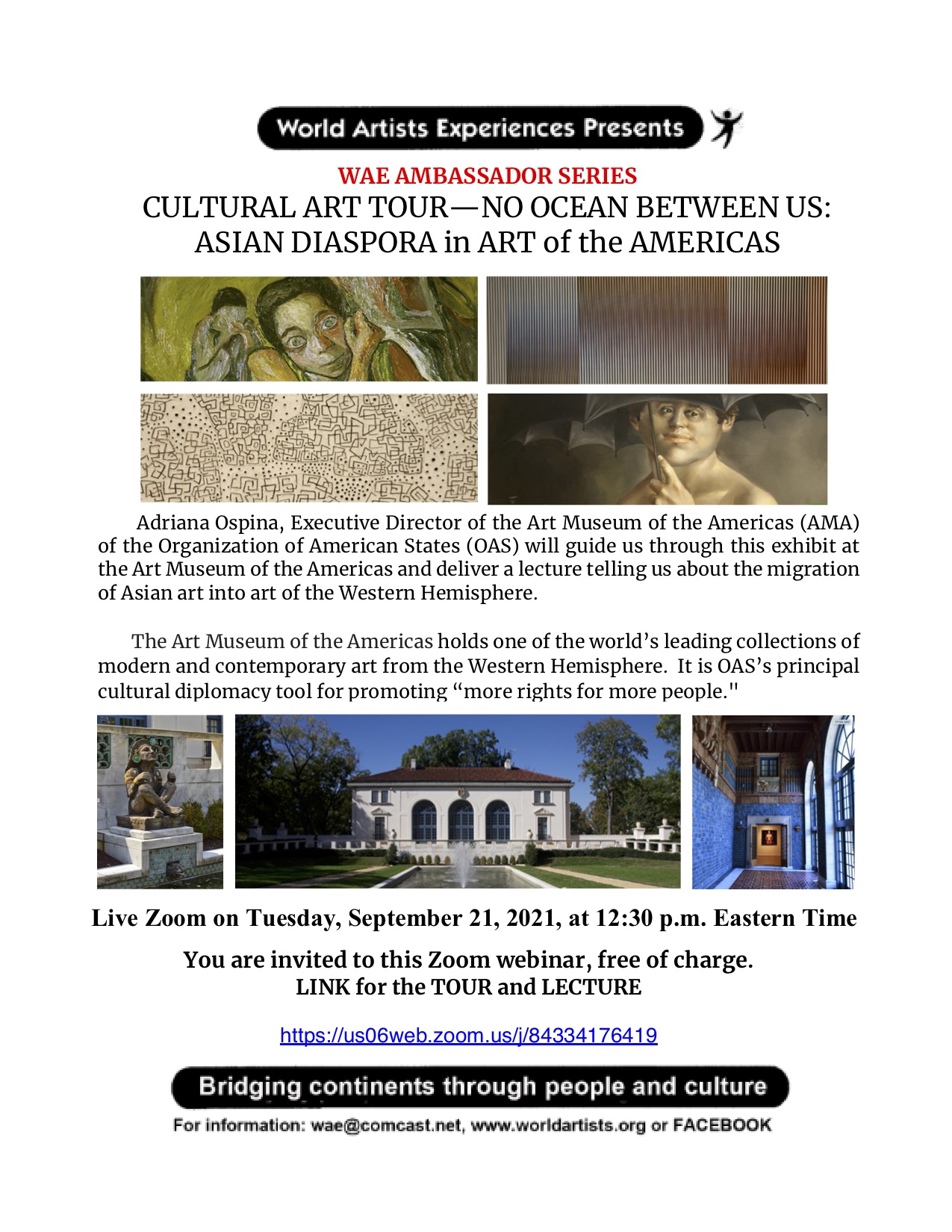 September 23
World Artists Experiences
in Partnership with
THE EMBASSY of the ARAB REPUBLIC of EGYPT
Educational and Cultural Bureau
Presents
National Museum of Egyptian Civilization (NMEC): A New Vision for Cultural Hub
Thursday September 23, 2021, at 4:30 PM
On ZOOM (see the link below)
Presented by:
Prof. Ahmed Farouk Ghoneim
NMEC is a unique cultural hub. At its core it is a museum, and yet is much more than just a museum. When looked at as a museum it is unique and different from other museums where it focuses on several civilizations. It is more of a cultural hub mixing different kinds of culture (art, music, etc.) with antiquities. It aims at utilizing state of the art technology to present Egyptian culture. It is also well equipped with restoration centers and labs that enable it to be one of the top research centers in the field. Adding to that it aims at mixing entertainment with cultural aspects. By all means it is a unique project not only in Egypt but as well all over the world, adding to the fact that it hosts 20 Egyptian Queens and Kings where no other place in the world can do this.
Zoom instructions
Thursday September 23, 2021, at 4:30 PM (US and Canada)
Join Zoom Meeting
Meeting ID: 862 0249 5349
Passcode: 155159
One tap mobile
+16465588656,,86202495349#,,,,*155159# US (New York)
+13017158592,,86202495349#,,,,*155159# US (Washington DC)
Dial by your location
+1 646 558 8656 US (New York)
+1 301 715 8592 US (Washington DC)
+1 312 626 6799 US (Chicago)
+1 669 900 9128 US (San Jose)
+1 253 215 8782 US (Tacoma)
+1 346 248 7799 US (Houston)
PLEASE...
As you enter the meeting mute your computer
Hold questions until the lecture is completed
Raise your hand on ZOOM to ask a question
Dr. Ahmed Farouk Ghoneim
Dr, Ghoneim is currently a Professor, Faculty of Economics and Political Science, Cairo University. He is a research fellow at the Economic Research Forum for Arab Countries, Iran and Turkey (ERF) as well as at Center for Social and Economic Research (CASE) in Poland. He works as a consultant to several international and national organizations in
Invites you to the live lecture
"National Museum of Egyptian Civilization (NMEC): A New Vision for Cultural Hub"
Sept. 11, 2001-Sept. 11, 2021
Lamed, a bridge between heaven and earth
This youtube link will be available on 9/11
Harmony, the sense of beauty, this is the purpose of the notes of composer Federico Longo who proposes to remember with music the tragedy of September 11, 2001.
Twenty years after that tragic day, the wound is still open and will never heal.
From the eternal city, at sunrise, the sounds conceived by Federico Longo, author of the song "Lamed (A letter for a friend)", directed by Renato Porfido, join the choreography conceived and performed by the dancer Michela Pavese.
The choice of this piece - explains Longo - is due to one of the possible symbolic meanings of the letter of the Hebrew alphabet lamed, which, also for its shape, can remind a lightning bolt, an energetic bridge between heaven and earth. Symbolically, it represents the desire to search for that impossible-to-destroy tower and that indissoluble spiritual bond with those who have lost their lives.
A new stage in the collaboration between the composer Federico Longo and the director Renato Porfido. After the short films "Vita ricucita" and "La vena giusta del cristallo", which were very successful in festivals all over Europe, this time the two artists entrust their syntony to the combination of music and dance.
The video, which will see the light next September 11, is made by CROHNONLUS with the support and collaboration of the production company ARILU (by Aristotle Aebli) and the U.S. WAE (World Artists Experiences).
The piece Lamed (A letter for a friend) is performed by pianist Carlo Guaitoli and OFI (Italian Philharmonic Orchestra) conducted by Federico Longo.
Federico Longo
Debuts at the Philharmonie in Berlin and at the Sydney Opera House marked the beginning of Federico Longo's international career.
His compositions are produced by the famous Maurizio Fabrizio and are published by OTTODODICI.
He has 4 albums to his credit, the latest of which, Notte di luce, was conceived and inspired by the event of the same name broadcast by RAI 1 in August 2020.
He has an intense relationship with Germany where, in addition to having permanently conducted the Kammerphilharmonie Berlin-Brandenburg orchestra in Berlin, he has realized important opera and symphonic productions such as Tchaikovsky's "Eugen Onegin" and "Dornröschen" with the Robert Schumann Philharmonie and the participation with the Sächsische Kammerphilharmonie in the Wiederaufbaukonzert at the Freuenkirche in Dresden.
Winner in 2003 of the "Boris Christoff" prize, he studied at the Hochschule für Musik in Vienna and at the Accademia Chigiana in Siena where he obtained the prestigious Diploma of Honor.
Michela Pavese
Dancer for advertising campaigns including Rai scuola and GLA Mercedes.
Dancing for various events in many prestigious theaters such as Sistina, Teatro Olimpico, Auditorium della Conciliazione, Auditorium Parco della Musica, Olympic Stadium, Central Stadium of the Foro Italico in Rome.
Prima ballerina at the Teatro Savoia of Campobasso in "Cavalleria Rusticana" and "Pagliacci".
Dancer for the concerts "Capitani Coraggiosi" of Gianni Morandi and Claudio Baglioni.
Dancer and choreographer at the Sistina theater for the direction of Gino Landi, for AltaRoma, for M° Federico Longo on the occasion of TecNight in Cremona '18.
Character and dancer at Disneyland Paris.
She teaches in various structures including the IALS of Rome, and abroad.
Renato Porfido
Renato Porfido is a multifaceted film actor graduated from the Teatro Nuovo in Turin with multiple appearances in successful films and dramas. Porfido is also director of several short films and documentaries awarded in national and international festivals. Porfido is also the author of the book "Manual of the aspiring actor-Method Porfido" published in 2019
We've missed the faces, smiles, and hugs,
As we welcome groups from around the world.
World Experiences on and off the stage of communities.
People everywhere responded…
WAE is needed more than ever!
Appear from around the world!
Throughout these days, you have
Supported as well as contributed with
Your Time, Talents, Finances.
Positive feedback through
Fostering the Vision of bridging people everywhere
through these strange times.
Your GENEROSITY kept WAE moving!
WAE contacted our friends of 20 years.
Artists and Embassies reached out to us;
International organizations and institutions assisted
through the arts and culture.
No matter how difficult the Pandemic was in their country,
People around the world were in touch!
"WAE is a gift for Everyone!"
"We never forget our experiences with WAE in the US!"
"The people live in our hearts."
"WAE connects us in special ways."
World Artists Experiences becomes
Possible Live small duo from Finland in October 21;
Possible Live choir in May 22;
Definite Zoom Film Festival in February 22.
and sign up for email notices.
Reorganizing, planning...
To be a WAE care giver for the vision.
Technical Assistance; Communications;
Ambassador Team; International Education:
Cultural Immersion; Finance; Development and Grants;
Your great donations are still needed to support
Artists, technical assistance, venues, communications,
international education, and sustainable development.
Artists and culture builders;
Embassies and International organizations;
Local, state, regional organizations and institutions;
All our partners everywhere!
To our Financial Contributors!
Each cent is used wisely for the WAE vision!
to bridge people and cultures
across the continents by using the international language of the arts
throughout communities, colleges and schools
WAE builds mutual understanding among all of us;
WAE respects our differences, and celebrates our common humanity...
YOU help open the world's windows!
Next Zoom webinar will be July 10 with clarinetist Kinan Azmeh and the multicultural CityBand
JOIN WORLD ARTISTS EXPERIENCES for 2021-2022 SEASON!!